That's right, it's Thursday, and I'm feeling like life lately has been both a little awkward and (a lot) awesome.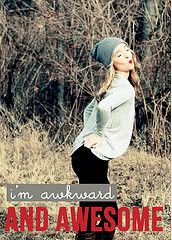 Awkward:
Talking with the girl sitting next to me in class as we were leaving and then realizing she is on her cell phone. Weird how the conversation still flowed so well.
Giving my microbiology students an online quiz and then realizing that I have absolutely zero clue how to view their tests and grade them...
Taking yesterday's pictures on our neighbor's front porch and praying the whole time that they don't come home. Hey! It was the only place where we wouldn't have to use flash!
Thinking I was pretty good friends with someone, and then finding out that they are engaged via a Facebook invite. Okay maybe this is a pity post, but even a little text would have been nice?
The smell of my lab mate's shrimp Top Ramen noodles. Blecchh. Smells extra awful when combined with weird organic chemical odors.
This video from the birthday dinner last night:
Awesome
Wasting time and going back in the Google archives to read some of mine and Owen's first gmail chats. They probably should go back under the awkward category, but they are really quite hilarious. Good thing we got better at flirting with each other.
Finally figuring out to grade said quizzes. Take that, Blackboard!
My (sort of) cousin (okay he is Owen's cousin, but practically mine) is running for BYUSA president-- Vote Greenburg & Steele!
Good right-out-of-bed hair today. Thank goodness, because heaven knows 6:15 is wayyy too early for this girl.
Owen's AWESOME birthday yesterday! We actually got to see each other during the day, which was a miracle right there. And he loved my gifts, which included a manly manly power drill and speakers with a sub-woofer thingy (I really do not like that word for some reason but he likes the speakers so it's okay!)
Mixing black & brown today. Deal with it.
Planning for summer. YAY! Almost there (sorta)...but I seriously cannot wait to get a break from this snow cage.
The number of different outfit shots we have been able to score in our backyard. Who knew that tiny piece of grass could be so versatile?
That video from Owen's birthday dinner last night.
My "spring decorations" which consist of a few fake brightly colored dahlias in Jones Soda bottles on the window sill. But I love them and they make me smile, and that's the important part.
Husband doing the dishes RIGHT NOW. Love it. And having leftovers so I didn't even really have to cook. Double love it.
Tomorrow is Friday! Ohhh yeah.